7 of the Best Things to Do on Romantic Getaways in Santa Barbara
Have you been thinking about planning a romantic weekend away from home? Consider visiting Santa Barbara with your loved one! This Southern California town is the perfect place to relax, unwind, and enjoy a little one-on-one time. Spend a day exploring nearby wineries, or indulge at an acclaimed restaurant. You can even head outdoors for some fresh air and adventure. Whatever you choose, we promise your trip will be one for the books! Here are our favorite ways to enjoy romantic getaways in Santa Barbara.
How to Experience Romantic Getaways in Santa Barbara
1. Sip and Savor With a Wine Tasting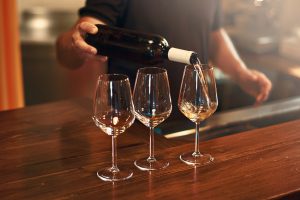 With over 200 wineries to choose from, wine tasting in Santa Barbara is a must during your romantic getaway. This region is famous for Pinot Noir, Merlot, Chardonnay, and more. If you're not sure where to start, we recommend taking a self-guided tour of the Urban Wine Trail. The trail stretches across two distinct downtown neighborhoods and allows visitors to try a wide variety of wines crafted from the area's best vineyards. Cheers!
2. Explore the Great Outdoors
With its rolling hills, pristine beaches, and endless recreational opportunities, Santa Barbara attracts adventurous couples from far and wide. Visit a few of our favorite outdoor spots where you and your spouse can connect with nature.
Stearns Wharf: Did you know that Stearns Wharf is Santa Barbara's most popular tourist attraction? Take a harbor tour on the Santa Barbara Water Taxi, or learn about our region's wildlife at the Natural History Sea Center. You can also enjoy fishing, whale watching, shopping, dining, wine tasting, and more.
Channel Islands: Just across the Santa Barbara Channel is Channel Islands National Park. Here you can hike, kayak, snorkel, or scuba dive to get one-of-a-kind encounters with local marine life. Keep an eye out for migrating whales and playful dolphins on the ferry ride out to the islands.
Go For a Hike: Santa Barbara is a beautiful destination tucked between the Santa Ynez Mountains with breathtaking ocean views. The area is home to roaring waterfalls, towering cliffs, and winding trails, all just waiting to be explored. Put on your hiking boots and get ready to venture into a world of excitement! Check out our list for the best hikes in Santa Barbara.
3. Indulge in Local Cuisine
When your stomach starts to rumble, head to one of our favorite top-notch Santa Barbara restaurants for food, drinks, and some eye-gazing. You can choose from a wide range of romantic eateries, including:
Toma Restaurant & Bar
Wine Cask
Stella Mare's
The Lark
Bouchon
Ca' Dario
… And more!
4. Experience Horseback Riding in Santa Barbara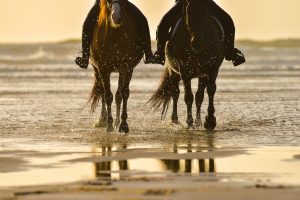 Santa Barbara is a stunning city located along the central coast of California. Its shorelines and mountains are popular places to surf, stroll, and explore. If you're looking for a different way to experience this picturesque city and reconnect with your loved one, why not try horseback riding? Taking a tour of Santa Barbara via horseback grants you the opportunity to explore the beautiful scenery that can only be accessed by some of these off-the-beaten-path trails.
5. Reconnect on a Sandy Beach
The tranquil Santa Barbara beaches are the ultimate place to fall in love all over again on a romantic getaway. Whether you want to surf, swim, or enjoy the sunshine, you're sure to find the perfect spot. Some of our favorite beaches include:
6. Have a Blast on State Street
The bustling heart of Santa Barbara's city center, State Street, is so rich in culture and excitement that you won't want to leave. State Street has it all! You and your better half will have the time of your life as you dive into the restaurants, shops, breweries, wineries, museums, and the farmers market.
7. Treat Yourselves to a Romantic Getaway Package with the Cheshire Cat Inn
At the Cheshire Cat Inn, we provide couples with the perfect romantic Santa Barbara getaway. Celebrate your sweetheart's birthday, escape here on your honeymoon, or take a much-needed break with our package for two at the Inn. Our Romantic Getaway Package includes:
Wine tasting for two at the Santa Barbara Winery's Tasting Room, located in the famous Funk Zone. Stroll by colorful murals hand-in-hand in this artsy section of town until you come to this chic, intimate winery that has served Santa Barbara for decades.
A $90 voucher for dinner for two at the renowned Bouchon Santa Barbara. This elegant fine-dining establishment has consistently earned awards for its regional wine list and overall superb quality.
Fall in Love With the Cheshire Cat Inn
If you're searching for romantic hotels in Santa Barbara, CA, look no further than the Cheshire Cat Inn. Our charming bed and breakfast is perfect for a romantic trip for reconnection and fun. Known for its beautifully decorated accommodations, modern amenities, gourmet breakfasts, and afternoon wine hour, the Cheshire Cat Inn is a favorite of couples from near and far. It's also conveniently located in downtown Santa Barbara, keeping you close to the heart of the area's best attractions.
When you stay the Cheshire Cat Inn, you're sure to feel the love in our Eberle Room. It features a beautifully tiled tub for two and provides a relaxing atmosphere enhanced by the gas burning fireplace. You'll feel at home in the Eberle Room with its queen bed, private bathroom with shower, and a flat-screen TV. All rates include breakfast and afternoon wine and hor's d' oeuvres! Additional amenities include a fireplace, bathrobes, a mini-fridge, free wi-fi, and more. It's time to treat you and your partner to the ultimate romantic getaway in Santa Barbara. Check our availability and start planning your escape now!
Our Blog