Here Are the 7 Best Santa Barbara Surfing Spots
Do you love the feeling of the rush you get when you catch that perfect wave and ride it into shore? Then you need to surf in Santa Barbara. Surfing has been a cornerstone of Santa Barbara since long before it was a world-recognized sport. Now, it's as popular as ever, and the area is home to an array of epic surf breaks. We've outlined the best Santa Barbara surfing spots for you. Check them out!
Surfs up at These Santa Barbara Surfing Spots
We've outlined the best Santa Barbara surfing spots and beaches for you. Cowabunga, dude!
1. Rincon Point
Just off of Highway 101, you'll find Rincon Point, also known as "the Queen of the Coast." With no food stands or souvenir shops, this is truly an authentic California surfing site. Surfers from all over visit this site to surf the breaks, including professional surfer, Kelly Slater.
2. Leadbetter Point
This breaking point yields mellow and consistent waves throughout the year, making it a popular site for novice surfers, standup paddlers, and longboarders. In the winter, Leadbetter Point picks up west swells, making for slightly more exciting waves. Overall though, it's a fun and easygoing surf spot.
3. Campus Point
The surf at Campus Point picks up significantly around September and continues to get better as the winter swells rise. Average wave peaks range from two to four feet, but have come in at as high as 15 feet!
4. Hammond Point
Slightly north of San Ysidro Road, you'll find the powerful Hammond Point. This point break has been a favorite of local surfers in the Santa Barbara area for years. Be sure to visit during medium tide for the best waves possible.
5. Channel Islands
At the Channel Islands, there are a plethora of little-known surf spots. Exposed breaks, swift currents, and rocky reefs can make surfing at these locations dangerous, so we suggest that only expert level surfers tackle these waves. As a rule of thumb, the north shore islands are best for surfing during the northwest swells of winter and spring, and the south shore islands are best during the south swells of summer and fall.
6. Jalama Beach Park
If you head north of Point of Conception and stray a bit from the beaten path, you'll find Jalama Beach Park. It's exposure to high wind conditions and reef breaks, cause dramatic conditions and powerful waves.
7. El Capitan State Beach
Notoriously known as one of the best point breaks in California is El Capitan State Beach. It produces hollow waves, which make for awesome tube rides. Its sandy beaches also make it an ideal spot for picnicking and sunbathing.
Park Your Board at Cheshire Cat Inn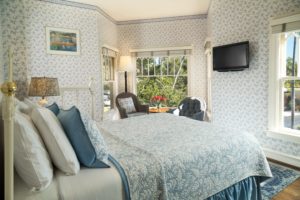 If you want to stay near the best Santa Barbara surfing spots, as well as the area's most popular restaurants, attractions, and events, you need to stay at Cheshire Cat Inn. Our Southern California bed and breakfast offers travelers from all over the world an opportunity to enjoy beautifully appointed accommodations and furnishings in two Victorian Queen Ann houses and Craftsman cottages, which are updated with all the modern conveniences.
The Mock Turtle room at Cheshire Cat Inn features a charming corner bay window that lets the sunbeams in, along with comfortable chairs and a queen bed. This stunning room is decorated in sapphire and white and has a private bathroom. It's time to head to Santa Barbara and explore all that it has to offer! Check our availability and start planning your exciting adventure today.
Our Blog