Here Is the Ultimate Santa Barbara 5-Day Itinerary
Are you considering planning your next great getaway? If you desire to stay somewhere picture-perfect and luxurious, that's surrounded by a thriving, gorgeous city, then stay at Cheshire Cat Inn in Santa Barbara, California. To learn how to make the most out of your vacation, keep reading our Santa Barbara 5-day itinerary.
For even more information regarding restaurants, events, and more to enjoy during your trip to Santa Barbara, please take a look at our free Vacation Guide.
Santa Barbara 5-Day Itinerary
Take a look at these amazing Santa Barbara vacation ideas!
Day 1: Discover Downtown Santa Barbara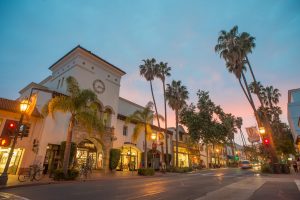 Throughout Santa Barbara, there are a few different neighborhoods, each with their distinct qualities making them special. One of the best parts of staying at Cheshire Cat Inn is that it's within walking distance to downtown and is close to other surrounding communities, such as:
Day 2: Explore the Great Outdoors
With its mild temperatures and breathtaking views of the Santa Ynez mountains and sparkling ocean, Santa Barbara is a picture-perfect place to spend the day outside exploring nature. Some of our favorite outdoor activities include: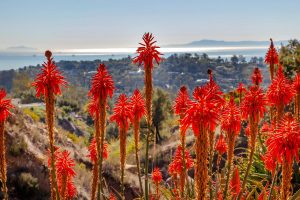 Day 3: Sip Your Way Through Santa Barbara
Did you know that the American Riviera is home to more than 200 wineries? When trying to decide which ones to visit, it can be very overwhelming. A fantastic way to narrow it down is by taking a self-guided tour along the Santa Barbara Urban Wine Trail. This trail includes 28 wineries and tasting rooms across downtown Santa Barbara. Explore the trail and enjoy wine tastings at:
If wine isn't your forte, don't fear! There is also an array of local breweries and taprooms for you to visit. Some popular ones include:
Day 4: Embrace History and Art
Originally settled and built by Spanish, Mexican, and North American pioneers, Santa Barbara maintains much of its original Spanish influence to this day and is famous for its rich history and culture. During your Santa Barbara getaway, be sure to check out some of these historic and beautiful landmarks:
Day 5: Hit the Beach
Throughout Santa Barbara, you'll find miles and miles of pristine shoreline. Whether you prefer to spend the day surfing, swimming, or laying in the sunshine, there is an extensive list of beaches to choose from where you can spend amazing days in Santa Barbara. Our picks for some of the best beaches in Santa Barbara include:
Make Cheshire Cat Inn Your Home Away From Home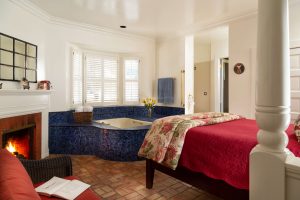 Cheshire Cat Inn is a beautiful Alice in Wonderland themed bed and breakfast that's perfect for any getaway. Our inn grants travelers from all over the world an opportunity to enjoy beautifully-appointed accommodations with fantastic amenities.
After spending the day trying out some of the things on our Santa Barbara 5-day itinerary, retreat to your private cottage or cozy guest room at Cheshire Cat Inn. Unwind from the day and enjoy delectable wine and cheese at our complimentary happy hour. In the morning, power up with a homemade delicious European breakfast and then embark on an adventure. What else could you want? Check our availability and start planning your dream vacation today!
Our Blog