Everything You Need to Know About First Thursdays in Santa Barbara
From its art museum to multiple galleries to several events throughout the year, Santa Barbara is a town closely associated with the arts. This association shows itself in the very streets of Santa Barbara, with vibrant colors popping and beautiful architecture rising. It would be nigh impossible to get a broad idea of the culture of the American Riviera in just one evening, but First Thursdays in Santa Barbara manage to showcase the cultural variety found here within the space of three hours. Keep reading to get an idea of how the celebration manages to accomplish this!
The first Thursday of each month, downtown Santa Barbara comes alive to celebrate art and the vibrant culture for which it is known. From 5 p.m. – 8 p.m., participating galleries and art-related establishments offer free access to art of all kinds, including visual and performing art. 1st Thursdays are an opportunity to enjoy art in a social setting. Events you can attend during 1st Thursdays range from art openings to live music to artist receptions and lectures. Often, there are also wine tastings and even hands-on activities!
For in-depth information about which venues are participating, visit Downtown Santa Barbara's website and download the 1st Thursday Passport. You can also find out which events will be happening, whether it's an art crawl or showing complete with wine and live music.
The places that participate in 1st Thursday include art galleries, but incorporate many other businesses, including retailers and restaurants. On top of this, there are live performances and interactive exhibits on State Street. Downtown Santa Barbara also partners with various cultural groups in Santa Barbara to create one-of-a-kind attractions.
1st Thursday acts a way for locals to enjoy their culture and interact with neighbors and the arts community. It also enables visitors to experience a sample of the diversity of the kinds of arts that thrive in Santa Barbara.
Stay Nearby in Elegant Surroundings
The Cheshire Cat Inn is just four blocks from the heart of Santa Barbara. Our close proximity to downtown means you will be within walking distance of many attractions like 1st Thursday while still enjoying peaceful, elegant lodgings. Experience a combination of classic English charm combined with whimsical touches inspired by Alice in Wonderland. Enjoy the beauty of our grounds, complete with gardens and outdoor seating areas. No matter what you choose to do during your stay in Santa Barbara, you can rest assured that you will enjoy total relaxation and rejuvenation.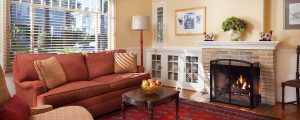 Our Prestbury Cottage, inspired by the owner's favorite Cheshire village, is bright, cheery, and inviting. A fully equipped kitchen means that you can cook a meal if you don't feel like going out to eat, and you have your choice of enjoying your food in a cozy dining nook or on a romantic private deck. Unwind at the end of the day with a glass of wine curled up on the couch in front of the crackling fireplace. In the morning, you can enjoy a complimentary, delicious buffet-style breakfast, and in the evenings, there is a social hour complete with appetizers and wine.
Each of our suites and cottages has a unique personality—be sure to browse all of them before you book your stay in Santa Barbara!
Our Blog