7 of the Best Santa Barbara Museums
With a city that has a history as long and rich in culture as Santa Barbara does, there are bound to be several fantastic museums to visit. These museums collect and tell the story of elements of Santa Barbara's past, from physical marks like buildings and artifacts to the different kinds of art that are so integral to the city. If you are wondering which Santa Barbara museums you need to visit, keep reading!
7 of the Best Santa Barbara Museums
Santa Barbara is brimming with museums that display fascinating artifacts and hold all kinds of wonder in store. Many have served the community for decades, evolving throughout the years to keep things interesting while still educating about various aspects of Santa Barbara's past. Below are some of Santa Barbara's best museums.
MOXI, The Wolf Museum of Exploration + Innovation
MOXI is Santa Barbara's newest hands-on museum for all ages that seeks to encourage learning outside of the traditional classroom. Their philosophy is that education should be achieved through engagement and enjoyment. The three floors of their building on State Street are filled with interactive learning experiences that relate to science, technology, engineering, arts, and math. Step inside a giant guitar to learn more about music, enjoy the views and exhibits in the Sky Garden, build your own car and race it against others—there's tons to do! Don't have any kids? No problem—MOXI also hosts Afterparty events for adults only.
Museum of Contemporary Art Santa Barbara
The Museum of Contemporary Art Santa Barbara has been a significant organization promoting art and arts education in Santa Barbara for over 40 years. It displays a variety of changing exhibitions, from the Bloom Projects which feature up and coming artists from all over to exhibits dedicated to highlighting specific contemporary artists, often local. Admission to the Museum of Contemporary Art Santa Barbara is free, so if you are strapped for cash, this is a fun way to explore the area's art culture.
Old Mission Santa Barbara
One cannot mention museums in Santa Barbara without speaking of its historic buildings. Through their architecture, they act as museums in themselves, and the city itself is practically a museum of beautiful architecture.
The Old Mission, also known as the "Queen of the Missions," is one of Santa Barbara's oldest and most recognizable buildings. Spanish Franciscans established the Old Mission in 1786, and today its walls still stand, home to an active parish of Franciscan friars. Take a tour of the breathtaking grounds that look out over the Pacific Ocean and marvel as you explore the elegant Mission church, historical cemetery and mausoleum, nine-room museum, and several lush gardens.
Santa Barbara Historical Museum
Learn about how Santa Barbara became the American Riviera, discover its cultural history from the Chumash to the Spanish, and learn about recent history through a variety of fascinating and informative exhibitions at the Santa Barbara Historical Museum.
Santa Barbara Maritime Museum
The Santa Barbara Maritime Museum features all things that relate to the Santa Barbara Channel while celebrating the city's connection to the sea. Head to the harbor to find this historical museum! While you peruse the displays, you'll feel like you're on a ship, thanks to the unique construction of the inside.
Santa Barbara Museum of Art
Not to be confused with the Museum of Contemporary Art, the Santa Barbara Museum of Art features one of the best collections of art in Santa Barbara. Though it is relatively small, there are tens of thousands of works of art in the museum, spanning over 5,000 years of human creativity. The Santa Barbara Museum of Art boasts quite a diverse collection of works from many different famous artists, the likes of which are typically seen in cities much larger than Santa Barbara.
Santa Barbara Museum of Natural History
Explore the wonders of the natural world at the Santa Barbara Museum of Natural History! This museum has everything from antique prints featuring sketches of the natural world to hundreds of displays of animals. Tiptoe past bears in the Mammal Hall, peek at colorful, delicate plumage in the Bird Hall, attend a star party at the Observatory—there are so many fun ways to learn about the natural world here! The Santa Barbara Museum of Natural History also has a Sea Center on Stearns Wharf where you can interact with marine animals from the Santa Barbara Channel. And, if you truly love nature, you can make it part of your big day and have your wedding at the Santa Barbara Museum of Natural History!
Other Ways to Discover Santa Barbara's History
You can find history just about anywhere you go in Santa Barbara. In addition to museums and architecture from centuries past, gardens and tours provide yet another perspective of Santa Barbara's past. Sit back and enjoy the ride on a trolley tour or stroll through the lush landscapes of the Orchid Estate, Lotusland, and Sunken Gardens. There are so many ways to spend an exciting day learning about Santa Barbara!
Reflect in Beautiful Surroundings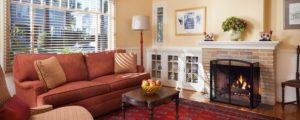 Return after your day of exploring lovely Santa Barbara and unwind in gorgeous lodgings. The Cheshire Cat Inn provides tranquil accommodations only a few blocks away from the heart of downtown Santa Barbara, giving you access to the best of both worlds. Spend some time strolling through our peaceful gardens, or relax in your room, whether it is in your sitting area or outside on your balcony. Take a look at all of our accommodations, and book your Santa Barbara vacation today!
Our Blog