Feast on Fantastic Fare on One of the Best Santa Barbara Food Tours
From delicious authentic Mexican cuisine to incredibly fresh seafood, superb local wines, and top-notch beers, Santa Barbara's food scene is brimming with as much vibrant diversity as it's art scene. When faced with choosing which places to visit during your stay, it may seem daunting. An excellent way to sample a variety of the fare here is to go on a Santa Barbara food tour! Knowledgeable guides will lead you to the best spots in town, along the way relating interesting facts about local history. Keep reading to find out which Santa Barbara food tours are the best!
A food tour in Santa Barbara is a fantastic group activity. It's also just a fun way to try something new. Below are the best tours around.
Eat This, Shoot That!
If you're looking to experience Santa Barbara's iconic Funk Zone, Eat This Shoot That's Funk Zone Food & Photo Tour provides a balanced experience. This tour is complete with history and fun facts, information on the arts culture so integral to Santa Barbara, and of course plenty of opportunities to sample some incredible food and drinks. You'll even get some tips on how to take excellent foodie photos with a smartphone camera!
Santa Barbara Tasting Tours
Experience an intimate food walking tour in downtown Santa Barbara with the Taste of Santa Barbara Tour. Santa Barbara Tasting Tours gives the tour, which takes place on bustling State Street. Along the way, you'll stop at six different shops and restaurants to taste a variety of delicious dishes at the top-notch restaurants that render Santa Barbara a culinary destination.
The tastings vary—some tours might stop by the Santa Barbara Public Market, while others may take you to areas like El Paseo and La Arcada. You will also learn about historical places in the city throughout the course of the tour.
Santa Barbara Tasting Tours also provides a Funk Zone Food Walking Tour. The tour begins a few blocks away from the beach and ends in the Funk Zone. Much like the tour above, as you stroll from restaurant to restaurant, you'll learn from the tour guide about the history of Santa Barbara while tasting a wide range of food and drink, which includes handmade chocolates, craft beer, lobster bisque, bratwurst, sparkling wine, and more.
Taste Santa Barbara Food Tours
Home of the Original Downtown Santa Barbara Food Tour! The tastings are spread out throughout the tour, so you don't have to worry about feeling stuffed after the first stop. You'll learn a lot about Santa Barbara's history on this tour and taste incredible food and wine, all while having a lot of fun!
You'll discover the hidden gems of Santa Barbara restaurants with Taste Santa Barbara Food Tours. Just about anyone who experiences it gives it glowing reviews and can't wait until they can take the tour again. If you only take one food tour while in Santa Barbara, we highly recommend this be the one you choose.
Totally Cali Tours
If you'd like an immersive experience, Totally Cali Tours offers a City Wine Beer and Food tour that lasts for a good portion of the day. Throughout six fun-filled hours, you'll experience a combination of a wine tour, beer tour, food tour, and history tour all in one.
Throughout the tour, you'll visit many important historical sites, local hangouts, the Funk Zone neighborhood, and experience many delicious foods, wines, and beers. The package includes local pickup and drop-off, so you don't have to worry about how to get there or where to park.
New Santa Barbara Restaurants You Should Explore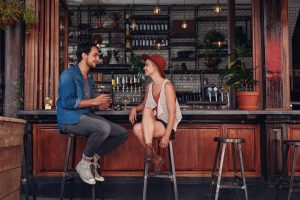 After you've had an excellent introduction to the culinary scene through a Santa Barbara food tour, you'll be ready to stop by individual restaurants on your own. Here are a few of our favorite new restaurants in Santa Barbara!
The Monarch
With an extensive list of local Santa Barbara wines and a menu serving up locally-sourced delicious New American fare, this is a great place to experience a casually elegant meal. The Monarch is best enjoyed with friends, as plates are intended to be shared. An added bonus is that they offer free valet parking.
Bibi Ji
Bibi Ji makes its home amidst the bustle of downtown Santa Barbara. They serve exquisitely presented Indian food, widely acclaimed by many to be some of the best in Santa Barbara and on the Indian dining scene as a whole. Bibi Ji provides an atmosphere that is wonderful for everything from a group visit to a date. Their produce and seafood are also locally sourced.
Le Petit Valentien
This charming bistro in La Arcada serves French and Ethiopian dishes alongside top-notch wine. The atmosphere is inviting and intimate, with lots of warm hues and wooden accents present in the decor. The menu features divine farm-to-table French dishes that change seasonally.
Local Tip: If you're constantly on the hunt for new restaurants and great food in Santa Barbara, check out the Restaurant Guy.
Relax in Luxury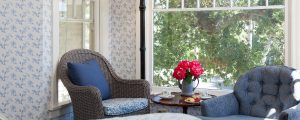 Return after a satisfying day exploring Santa Barbara via food tour to a charming inn, just blocks away from downtown. The Cheshire Cat Inn provides a beautiful, tranquil oasis designed for you to simultaneously unwind and recharge. Whether that's from a stroll through our gardens or spending some relaxing outside with a glass of wine is up to you!
Plus, the foodie experience doesn't have to stop when you stay with us; in the mornings, you'll be treated to a delicious breakfast buffet, and in the evenings, we host a social hour complete with local wines and tasty hors-d'oeuvres.
This is but a glimpse into your stay at the Cheshire Cat Inn in Santa Barbara. Be sure to take a look at all of our guest rooms, and book your stay in the American Riviera today!
Our Blog