8 Reasons You Need to Visit the Santa Ynez Valley
A few hours away from the noise and traffic of Los Angeles and San Francisco, the Santa Ynez Valley provides a beautiful haven nestled between the Santa Ynez and San Rafael Mountains. With a balmy climate, the pleasant weather makes the Santa Ynez Valley a great place to visit no matter the time of year (or especially during the winter, if you are looking to escape the cold!). See below to find out some of the best places to visit during your visit to the Santa Ynez Valley.
1. Visit a Winery
The Santa Ynez Valley is one of Santa Barbara Wine Country's American Viticultural Areas (AVAs). There are over 100 wineries here, many of which are small or boutique and family owned and operated. This makes for an experience with a level of quality that is hard to find elsewhere.
If you'd like to make a day out of it and taste many different kinds of wines, Los Olivos is an excellent destination with an abundance of wine tasting rooms. Plus, there are plenty of restaurants, art galleries, and shops in this trendy town for when you need a break from the vino. Alternatively, you can examine the full list of Santa Ynez Valley wineries and plot your own route.
2. Feed an Ostrich or an Emu!
In Solvang, you'll discover a one-of-a-kind attraction: OstrichLand USA. This iconic attraction has been around for a while, earning cameos in "The Simpsons" as well as the movie "Sideways," which takes place in the Santa Ynez Valley. It is like a zoo, but one where you'll only find Ostriches and Emus. And, the best part is that you can get up close and feed them!
3. Stroll Through a Botanic Garden
The Santa Ynez Valley Botanic Garden in Buellton transformed a dumping site into a 2.5-acre haven for native species of plants and birds. A community effort, the garden is free to visit and is a pleasant place to spend some time.
4. Old Mission Santa Inés
One of the last of a series of missions established by Franciscan Padres, the Old Mission Santa Inés is over two centuries old. This historic church in Solvang is still active, and the building and its grounds are quite beautiful.
5. Try Your Luck at the Chumash Casino
You'll find over 2,000 slot machines, a variety of table games, and a spacious poker room at this beautiful world-class casino. Plus, you can enjoy the Chumash Casino anytime, as it is open 24/7.
6. Explore the Unique Cities
The cities of the Santa Ynez Valley might be small, but they have big personalities, and each is quite distinct from the other. Visit Los Alamos, and you'll feel like you've stepped back in time with the vintage, western atmosphere. In Solvang, Danish influence has resulted in a charming culture, from cuisine to celebrations. Each of the six towns and cities here in the Santa Ynez Valley has much in store.
7. Take a Scenic Horseback Ride
Marvel at the spectacular scenery of the Santa Ynez Valley from the back of a horse for an experience not quite like any other. With some tours, you can even ride from winery to winery via horseback as you take in the views of the rolling hills and open skies.
8. Attend an Event
Throughout the year, the Santa Ynez Valley plays host to many different events. From Restaurant Week in January to the Olde Fashioned Christmas in Los Olivos in December and everything in between, there is often something exciting happening. The valley is also close to other major events like the Santa Barbara Vintners Festival and the Old Spanish Days Fiesta.
Relax in a Charming Inn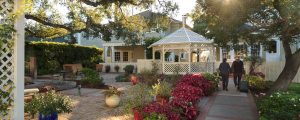 Just a short, scenic drive away from the Santa Ynez Valley, you'll discover the beautiful coastal city of Santa Barbara. With a thriving art scene, diverse kinds of cuisine, and an abundance of historic sites and museums, you'd be missing out if you were in the area and didn't visit. In fact, if you stay in Santa Barbara, you'll still be close to everything the Santa Ynez Valley has to offer while also getting to enjoy an entirely different city.
The Cheshire Cat Inn is the perfect place to stay during your trip to Santa Barbara. We are just a few blocks away from the heart of downtown Santa Barbara as well as iconic neighborhoods like the Funk Zone, so if you want to spend a day without driving, you can simply stroll around the streets of Santa Barbara.
Our guest rooms provide an elegant, peaceful place where you can completely recharge after a day of exploring Santa Barbara or the Santa Ynez Valley. Each lodging has its own personality, whether it is the whimsically decorated suites or the luxurious private cottages. Be sure to browse all our accommodations, and book your stay in Santa Barbara today!
Our Blog