Here Are 5 Kinds of Unique Yoga in Santa Barbara You Need to Try
Yoga is becoming ever more popular in the Western world, and its no wonder why. It's a great way to get the blood flowing, and you're sure to get a deep stretch or a thorough workout. When the class is over, you'll feel relaxed and at peace. The popularity of yoga in Santa Barbara has led to many fun kinds to pick from—we've listed some of our favorites below.
Aerial Yoga
Aerial Yoga is incredibly fun and offers an added challenge to those looking for a more intense workout. Nearby Ventura has one of the best studios around—The Aerial Studio. In Santa Barbara, a similar fitness class offered is at Santa Barbara Conservatory, where you can take aerial dance classes.
Free Yoga
Who doesn't love free things? There are a few different ways you can enjoy yoga for free in Santa Barbara.
Some studios in Santa Barbara, like Divinitree or Corepower Yoga, offer a free session or even week of yoga for those who are new to the practice.
If you'd like to meet fellow enthusiasts, Meetup is a great resource to connect you with other people and free yoga classes.
Hot Yoga
Hot yoga is yoga that is performed in a warm and very humid studio. The idea is to induce sweating (to detoxify the body), improve flexibility and stamina, burn calories, and increase circulation.
One of the most popular forms of hot yoga is Bikram yoga. During the course of a Bikram yoga class, you'll move through 26 poses in 90 minutes in a room heated between 95 and 105 degrees Fahrenheit.
You can find Santa Barbara hot yoga classes at Corepower Yoga, Evolation Yoga Santa Barbara, Yoga 105, and Bikram Yoga Santa Barbara.
Paddle Board Yoga
Paddle Sports of Santa Barbara offers this unique yoga fusion class. It combines light/moderate cardio from paddling with guided meditation and yoga for a restorative, refreshing experience. Can you think of a more tranquil environment to practice yoga than on top of the ocean as gentle waves roll under you and sea breezes gently blow by?
Yoga With Animals!
For an even more unique and fun experience, try attending a yoga class with some adorable animals.
Have you ever marveled at the flexibility of your cat? Take a few notes from these furry masters when you head over to Cat Therapy, Santa Barbara's one and only cat cafe, for cat yoga! You'll enjoy an hour of gentle yoga and deep stretching while surrounded by playful rescued cats. Classes are offered every other Sunday.
Of course, the premier form of animal yoga is goat yoga, so no mention of animal yoga is complete without some options for goat yoga. The Hotel Californian offers goat yoga from time to time—all you have to bring is your mat!
Traditional Yoga
Of course, there are plenty of beloved studios in Santa Barbara that offer a variety of more traditional yoga classes. Power of Your Om, Yoga Soup, and Divinitree Yoga & Art Studio are all great options.
Stay in Elegant Quarters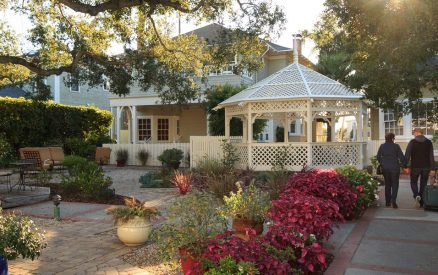 The Cheshire Cat Inn offers beautiful suites blocks away from the heart of downtown Santa Barbara. Our rooms are bright and cheery, with tasteful touches of English charm and a bit of whimsy. Our lovely gardens offer a peaceful place to unwind after a day spent exploring Santa Barbara, providing a serene oasis in the midst of downtown.
A complimentary breakfast, social hour, and an EV station are just a few of the perks of staying here. Be sure to take a look at all of our accommodations and book your stay in Santa Barbara today!
Our Blog