4 Beautiful Waterfalls in Santa Barbara You Need to See
Santa Barbara enjoys natural surroundings that will make you think you've traveled to a lush, tropical paradise. On one side, the Pacific Ocean stretches out as far as the eye can see. On the other, majestic mountains rise into the sky. Outdoor recreation is a cut above here, and a visit to the waterfalls in Santa Barbara is a must.
You'll find these seasonal falls in Nojoqui Falls Park. Your best bet for getting to see the unique, slender stream tumble down the rock face is to visit during spring or winter.
The park itself is picturesque and offers walking trails and picnic areas, making it a good place to spend an afternoon enjoying the great outdoors.
Lush greenery will envelop you as you make your way to San Ysidro Falls, which snakes down the rugged rock to deposit fresh water into the pools below.
The best time to visit San Ysidro Falls is after a good rain when there is more water flowing. The rainy season tends to fall around January through April, so your chances at seeing the waterfall at more than a trickle are best during this time.
This waterfall hike is better suited for those who are a bit more experienced. The waterfall itself is about 2 miles from the trailhead, so if you don't want to hike the full 8 miles, you can turn back around after you've reached the falls.
This is a fun hike that presents a variety of challenging terrain—you can expect to do a bit of rock climbing, so be sure to wear sturdy shoes! As with the other Santa Barbara waterfalls on this list, your likelihood of seeing the falls is largely dependent upon rainfall.
If you want to enjoy spectacular, panoramic views of the city and the ocean, hike the Tunnel Trail to Inspiration Point. Be sure to bring sunscreen and plenty of water with you!
The trek to Tangerine Falls is fairly shady, and there's also a burbling creek that runs alongside the trail. You'll pass a small waterfall before Tangerine Falls, which you'll reach through some rock climbing.
Note: as of right now, the falls are closed due to damage from fire and mudslides. However, this is subject to change, so be sure to check as you are planning your visit.
Other Outdoor Recreation
If you still have energy to burn after hiking to these waterfalls in Santa Barbara, there are excellent places to go hiking and bike riding. Santa Barbara is surrounded by breathtaking, diverse natural beauty that's just waiting to be explored!
Relax in Tranquility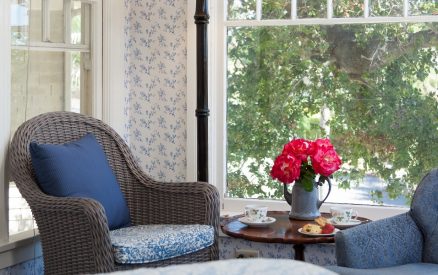 Return after a day of enjoying breathtaking sights and unwind in a lovely inn. The Cheshire Cat Inn is nestled on a quiet street just blocks away from State Street. As our guest, you'll enjoy a serene oasis in the midst of the city.
Take a stroll through our beautiful gardens, or relax with a glass of wine in your room—you'll feel refreshed in no time.
Be sure to take a look at all of our accommodations before you book your stay in Santa Barbara!
Our Blog