Here Are the Best Things to Do at the Santa Barbara Harbor
If you are planning a trip to the Southern California Coast, a visit to the Santa Barbara Harbor is an absolute must! Breathtaking ocean views, fabulous shopping and dining, and fun water activities are just the beginning of what you'll discover here. Read on to learn how you can experience this waterfront gem to the fullest!
1. Play in the Ocean
From paddle boarding and kayaking to jet skiing and boating, there are endless ways to have fun on the water at the Santa Barbara Harbor. Learn how to sail like a pro, take a romantic sunset cruise, or experience the best of Santa Barbara Harbor fishing on your own powerboat. Feeling adventurous? Explore the world under the waves with an exhilarating scuba diving excursion. Or, charter a private yacht and enjoy a relaxing day at sea. Whether you're in the mood for thrill-seeking, sightseeing, or casual cruising, there is something for everyone!
2. Visit the Santa Barbara Maritime Museum
Interactive exhibits and family-friendly programs are just a few of the things that await you at the Santa Barbara Maritime Museum. Explore the California coast through the eyes of the earliest settlers, gaze through a working periscope, or get your heart racing with a virtual dive deep into the depths of the Pacific. While you're there, make sure to check out the newest exhibit, History of Oil in the Santa Barbara Channel. It covers more than 1,000 years of Santa Barbara Harbor history and the impact of oil, both then and now.
3. Go Whale Watching
Recognized by the Discovery Channel as "One of the 10 Best Places in the World to View Wildlife," Santa Barbara whale watching is a truly memorable experience. The harbor is a prime place to view blue whales, grey whales, humpbacks, and even orcas. There are several whale watching tour services to choose from, and many also offer scuba diving and island excursions.
4. Grab a Bite to Eat
Whether you're craving steak, seafood, or sushi with a view, the Santa Barbara Harbor is home to some of the best restaurants in the area. There are several options for breakfast, lunch, and dinner, and they range from casual fare to fine dining. Named one of the "Top Ten Seafood Spots by the Sea" by Sunset Magazine, we highly recommend The Endless Summer Bar-Cafe. Besides the amazing views, their fish tacos and mai tais are second-to-none. And if you are visiting during the fall, you won't want to miss the Santa Barbara Harbor Festival. With more than 10 million pounds of seafood, it is one of the most delicious events of the year.
5. Browse the Shops
When you're ready to take a break from the surf and sun, check out the beach shops along the harbor for nautical gifts and souvenirs. You'll find a wide array of bohemian clothing and jewelry at Brophy's Mercantile, while West Marine offers the very best in boating services and products. If you're planning to enjoy an oceanic adventure during your visit, you'll definitely want to stop by Channel Island Outfitters. Here you'll find an impressive collection of competitively priced kayaks, stand-up paddleboards, and surfboards.
Relax and Unwind at Cheshire Cat Inn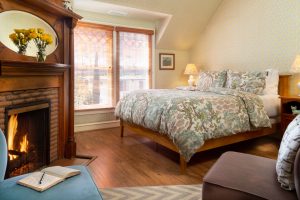 After a fun-filled day at the Santa Barbara Harbor, come home to our Southern California bed and breakfast. Cheshire Cat Inn is just steps away from the many shops, restaurants, and attractions in downtown Santa Barbara. Each of our rooms and cottages is designed with your ultimate comfort in mind. Many of them feature original fireplaces, sitting areas, and private balconies with incredible views of the Santa Ynez mountains. For a truly memorable experience, we invite you to stay in our Tweedledum Suite. Privately situated with its own Jacuzzi room and King-sized bed, this relaxing retreat is sure to transport you to pure bliss.
During your stay, you can expect a homemade European breakfast in the morning and complimentary wine and hors-d'oeuvres each afternoon. Other amenities include free Wifi, onsite parking, evening treats, and so much more. Get ready to experience all that Santa Barbara has to offer and book your stay today. We can't wait to welcome you!
Our Blog