5 of the Best Los Padres National Forest Hikes
With miles of trails to choose from, it might be hard deciding where to start when it comes to Los Padres National Forest hikes. We've compiled this handy list of some of the most popular to help get you started.
The Los Padres National Forest is the second largest national forest in California, and the western fringe is just a few minutes away from downtown Santa Barbara. That means you have no excuse not to explore the lush, ecologically diverse forest!
There are two different ways that you can hike to the gorgeous overlook at Inspiration Point. If you're looking for more of a challenge, follow the Jesusita Trail to Inspiration Point via San Roque Road.
During the hike, you'll follow the San Roque Creek, pass under the curving limbs of oaks, enjoy majestic mountain views from open meadows, and marvel at sweeping vistas of the Pacific Ocean and Santa Ynez Mountains. It all builds up to the spectacular Inspiration Point, a popular destination known for its excellent views.
For a shorter excursion, you can follow Tunnel Trail to Jesusita Trail, which cuts the hike in half. You'll enjoy the sights in Mission Canyon on this route, including sandstone formations like the Mission Crag.
The Rattlesnake Canyon Trail is within minutes of downtown Santa Barbara, yet takes you into nature and leaves you feeling like the city is far away. While many of the other creeks and waterfalls in the area are subject to weather, there is usually water in the creek here, and there's always plenty of shade. These factors combined with the level of ease that this trail offers makes it one of the most popular hikes in Santa Barbara and the Los Padres National Forest.
This is a great hike if you want to spend the day outdoors. It is fairly long, but there are several large swimming holes along the trail that make for a fantastic place to cool off. If you want to brave the entire length, it will take you to the Gibraltar Dam.
Note: some times of the year when the water levels are high, you won't be able to take a motorized vehicle on the trail, which will make the hike longer (but less crowded!).
This is a popular trail for hikers and mountain bikers alike. For the first part, you'll be walking along a creekbed and breezy forest. Then, you'll transverse a challenging climb over the Santa Ynez range to East Camino Cielo Rd, which will then take you by a water tower, then take you down to a junction. From there, you can head back to the trailhead.
When you reach the summit on the Romero Canyon Trail, you'll have fantastic views of Montecito and the Pacific Ocean. You'll also be treated to sights of wild backcountry on the hike.
With the Tunnel Trail, you'll encounter chaparral, pools, a waterfall, and of course, scenic views. This trail is not shaded, though, so you'll want to be sure to bring plenty of water and sunscreen along. The end of Tunnel Road is also near the Santa Barbara Botanic Gardens, which is a good place to stroll through afterward if you haven't gotten your fill of nature.
Alternatively, you can hike to the La Cumbre Peak, which continues after the end of Tunnel Trail. It adds a considerable amount of miles to your trek, so make sure you're prepared and bring lunch and water with you. It's worth it though, as you'll gain access to Santa Barbara's highest peak, which means you'll be at the best vantage point for panoramic views.
Stay Nearby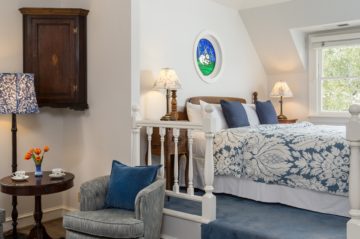 The Cheshire Cat Inn is conveniently located in the heart of downtown Santa Barbara, just blocks away from buzzing State Street. When you stay here, you'll be in the best spot for exploring all the things to do in beautiful Santa Barbara.
At the same time, you'll have an experience that is more hospitable and personalized than you might at a chain hotel. From a complimentary buffet breakfast to a daily social hour, from luxurious accommodations and amenities to charming decor, your stay at the Cheshire Cat Inn will be most exceptional.
Our Blog