4 of the Best Vineyards in Santa Barbara
California is famous for its wine. The pleasant, temperate climate, diversity of soil, and unique terroir provide fertile grounds for incredible vineyards that produce incredible wine. Which vineyards and wineries you visit during your stay is an inevitable part of planning for your vacation. To help with your planning, we have listed our favorite vineyards in Santa Barbara.
Andrew Murray Vineyards occupies a beautiful swathe of land in Los Olivos. The winery makes incredible wines from four different "families": Tous les Jours (their "everyday" Syrah), red and white blends, varietals like Syrah, Viognier, and Grenache, and single-vineyard reds. The winery is nestled into the hillside with lovely views of Santa Ynez wine country.
There are two tasting rooms that you can visit; one is in downtown Los Olivos, and the other is at the beginning of Foxen Canyon Wine Trail, just outside of downtown Los Olivos. Different wines are available at each location—be sure to check available wines on their website before you visit if you have your heart set on a specific vintage.
Foxen Vineyard also has two beautiful tasting rooms. One is affectionately referred to as "The Shack" and the other, Foxen 7200, acts as the main tasting room for Foxen Vineyard. The main tasting room is solar powered, and native vegetation surrounds it, making for a peaceful, scenic setting for enjoying wine.
Step inside the tasting room, and you'll notice the rustic, warm atmosphere right away. If you taste the wines and find something that you love and want to take home with you, the tasting will be free!
Foxen Vineyard produces whites, pinots, Rhône-style, small batch dessert wines, and special Foxen 7200 varietals and blends. Many of the wines are only available at the winery or in limited distribution.
The charming Rancho Sisquoc Winery is in Northern Santa Barbara. It offers a tranquil, scenic gathering place for wine lovers along the Sisquoc River. Stop by to try award-winning, small batch estate wines.
You'll find the tasting room at the end of a winding country road and nestled among rolling hills and pastures. Wine tastings at Rancho Sisquoc are only $10 for 6 wines, and you even get a complimentary stemless wine glass to take with you.
Sunstone Winery is a grand, Provençal French-style property offering elegant wines in exquisite environs. Enjoy their organic wines in the airy courtyards, stone barrel-aging caves, or on the tree-shaded picnic grounds.
Sunstone wines are not available in stores, so visiting their tasting room or purchasing wines directly from their winery are the only way that you can enjoy their fabulous wines. Whether you're a casual enthusiast or a bona fide oenophile, the staff at Sunstone are ready to accommodate any and all questions you may have.
Return to the Cheshire Cat Inn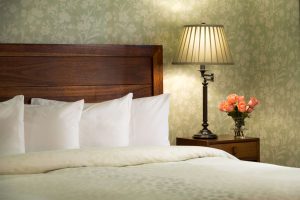 Our lovely inn in downtown Santa Barbara welcomes you! We're in an excellent location just a few blocks from State Street and all of its restaurants, wineries, and shops. You won't be far from the best outdoor attractions, either, including everything from the Channel Islands to enchanting& hikes to waterfalls and through national forests.
A stay at our inn includes complimentary breakfast, a social hour with free wine and appetizers, and luxurious accommodations surrounded by lovely gardens. Feel free to take a look at all of our guest rooms and book your stay in Santa Barbara today!
Our Blog