Unlock the Secret to the Best Hot Springs in Santa Barbara
When you visit Santa Barbara, you will have no problem finding a plethora of restaurants and shops. But, did you know that this area also has vast forests filled with towering mountains, majestic waterfalls, and even natural hot springs? Escape the town for a day and take a hike to some of the best hot springs in Santa Barbara.
The Best Hot Springs in Santa Barbara, CA
Big/Little Caliente Hot Springs;
The Los Padres National Forest is home to some of the most outstanding hot springs in the Santa Barbara area, one of them being the Big Caliente Hot Spring. You can access it by car, but there has been wet weather, we recommend calling the forest service to make sure the road is open. When closed, a hiking or biking expedition is a great option.
This hot spring is very accommodating for visitors and provides a picnic table and changing rooms. It's also been carefully maintained and is enclosed by colorful stones. Big Caliente measures about seven by four feet and is three feet deep. A noteworthy feature is the shady trees and plants surrounding this spring; feel free to relax comfortably in the shade on sunny days.
Continue onward through the forest trails and visit the Little Caliente Hot Spring. This is a series of three individual pools made out of rock and mortar. The serene pools are all connected by hot, flowing water that cascades from the top pool to the bottom, decreasing in temperature as it moves down. You have the luxury of choosing the pool with the ideal temperature for you!
The Big and Little Hot Springs are two free hot springs in California open for day-use only. You can access the trails in this park from 6 a.m. to 10 p.m. daily.
Gaviota Hot Springs
Gaviota State Park is a scenic, 35-minute drive from Santa Barbara and is home to some breathtaking landscapes, including the Santa Ynez Mountains and natural hot springs. You can enjoy the beauty of the Gaviota Hot Springs after a peaceful, half-mile hike. Nestled among the trees, you will find a group of three pools filled with bubbly, milky blue water. Spend some time soaking amongst the lush greenery and steam for the ultimate, spa-like feel.
To get to this oasis, pay $2 to park in the parking lot for the Gaviota Peak trailhead. When you branch off to the right of the trail that ascends to the peak, you'll discover Gatiova Hot Springs.
Hot Springs Canyon
Hot Springs Canyon is comprised of 462 acres of land that sits just west of San Ysidro Canyon in the Santa Barbara foothills. Over the years, it has been argued over for real estate purposes. Thankfully, the canyon has remained an undeveloped open valley with several trails leading to peaks that look out over the Pacific Ocean.
Several hot springs also lie in this area. The Hot Springs Trail is four miles roundtrip and runs along a small creek. The trail edges several impressive mansions, one of them owned by famous actor Jeff Bridges! You will also pass the ruins of the Montecito Hot Springs Club, an exclusive resort built in the 1800s for tourists flocking to the springs. Ultimately, the resort burned down during a forest fire and was never rebuilt.
Continue hiking through exotic vegetation including bamboo, agave, geraniums, palm, banana, and avocado trees. Eventually, you will reach two blue hot spring pools that have been rebuilt and maintained by locals over the years. You'll love relaxing in these natural tubs and breathing in the fresh air.
Stay at the Cheshire Cat Inn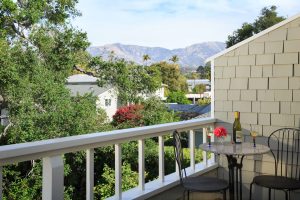 The Chesire Cat Inn sits in the heart of Santa Barbara, giving you access to all that the city has to offer.
Before you venture to the hot springs in Santa Barbara, fuel up with a delicious, European breakfast. Each morning of your stay, you will enjoy a breakfast buffet stocked with homemade granola and pastries, seasonal fruit, breakfast casseroles and quiches, bagels with cream cheese, and freshly brewed coffee from Santa Barbara Roasting Company.
Then, unwind after your eventful day by sitting on your private patio or balcony connected to an Alice in Wonderland-inspired room. Start planning an unforgettable trip! Browse our guest rooms and book your stay in Santa Barbara today.
Our Blog