Here Is the Inside Scoop on Santa Barbara Nightlife
When you're in Santa Barbara, just because the sun has set, that doesn't mean it's time for you to turn in! Santa Barbara nightlife has something to keep the night owl in all of us satisfied.
Santa Barbara Nightlife Outlined
No matter how to like to spend your days and nights, Santa Barbara has it all. Within the city, there are smaller neighborhoods. We've outlined the best areas for Santa Barbara nightlife and excitement.
Downtown Santa Barbara
All of Santa Barbara is gorgeous and fun, but downtown is where the action awaits you. If you're a busy bee that enjoys shopping, dining, and nightlife, this is the area that awaits you. The main strip of downtown Santa Barbara is State Street, which is oozing culture and commotion.
Figueroa Mountain Brewing Co.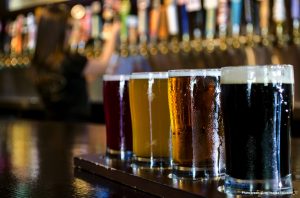 Location: 137 Anacapa St F, Santa Barbara, CA
Only an 8-minute drive from the Cheshire Cat Inn.
Craft-beer fanatics rave about Figueroa Mountain Brewing Company and their unique brews. This company began as a father-son venture that has now blossomed into a six taproom operation throughout California's central coast. Pay them a visit on Trivia Night and sip on their Lizard's Mouth Imperial IPA.
Red Piano
Location: 519 State St, Santa Barbara, CA
Only a 6 minute drive from the Cheshire Cat Inn.
At Red Piano, you'll come for a drink and stay for the show. This high-energy all-request piano bar is a fan-favorite among locals and visitors alike. They offer live music every night of the week that will keep you dancing and singing along all night long.
Uptown Santa Barbara
Uptown Santa Barbara yields a laidback, local feel. The area is home to various mom and pop restaurants, picturesque views of the Santa Ynez Mountains, and an array of watering holes to sip on handcrafted cocktails.
Uptown Lounge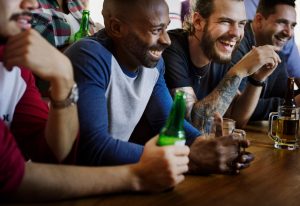 Location: 3126 State St, Santa Barbara, CA
Only 5-minute drive from the Cheshire Cat Inn.
This laidback lounge has it all—live music, flat screens for sports viewing, hot dogs, and pizza. They also serve up plenty of bar fun with their pool tables and ping pong for some friendly competition.
Mesa
The Mesa of Santa Barbara is just that—a mesa. A mesa is a Spanish word that means a flat-topped table that sits above the city. You have to drive uphill to get to the Mesa, and once you've conquered it, the views are out of this world—so are the neighborhood bars!
The Cliff Room
Location: 1828 Cliff Dr, Santa Barbara, CA
Only an 8-minute drive from the Cheshire Cat Inn.
The Cliff Room has been slinging stiff drinks at a fair price since 1986. People fall in love with the Cliff Room for its dive bar-feel, without the sassy service. Be sure to stop by for Karaoke Night and Happy Hour.
Funk Zone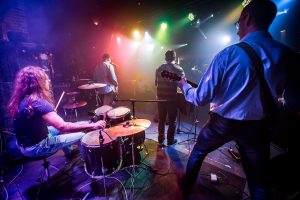 The Funk Zone is a popular Santa Barbara neighborhood that sits between the Pacific Ocean and Highway 101. The converted warehouses, hip cocktail bars, boutique tasting rooms, graffiti murals, contribute to the eclectic feel of the Funk Zone.
The Waterline
Location: 120 Santa Barbara Street, Santa Barbara, CA
Only a 7-minute drive from the Cheshire Cat Inn.
The Waterline is an adaptive reuse project located on an expansive industrial warehouse property in Santa Barbara's Funk Zone. This destination has quickly become a vibrant community gathering space where you'll find food, beer, wine, and local artwork. The Waterline consists of several local merchants, such a Topa Topa Brewing Company and Lama Dog pouring award-winning beers, The Fox Wine Company offering wine tasting, and The Nook with a creative food menu.
Stay in the Heart of Santa Barbara at the Cheshire Cat Inn
The Cheshire Cat Inn is a stunning bed and breakfast located four blocks from the heart of all of the Santa Barbara nightlife. During your stay at our inn, you will get to enjoy our delicious homemade breakfast and our renowned afternoon wine hour with local wine and hors d'oeuvres offered in our lovely gardens. In the evening, indulge in nightly treats and our 24-hour refreshment center that offers tea, coffee, and hot chocolate.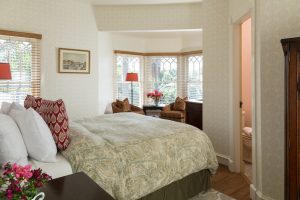 When looking for a unique place to stay in Santa Barbara, the Cheshire Cat Inn provides a wide selection of beautiful rooms, suites, and cottages perfect for a California getaway. The March Hare Room provides a romantic vibe with its open bay window sitting area. This room is decorated with sunny yellows and green bramble furnishings and features a queen bed, private shower, and flat-screen TV. Are you ready to start planning your Santa Barbara vacation? Check our availability now, and let the anticipation build!
Our Blog