What Are the Best Beaches in Santa Barbara?
If you're planning a summer vacation, consider visiting Santa Barbara, California. This tranquil seaside city is perfect for a romantic getaway or a fun family adventure! There are miles of pristine shoreline to explore, and whether you want to surf, swim, or catch a tan, you're sure to find the perfect spot. Here are some of the best beaches in Santa Barbara.
5 of the Best Beaches in Santa Barbara
Keep reading to learn about our picks for the best beaches in Santa Barbara!
1. Leadbetter Beach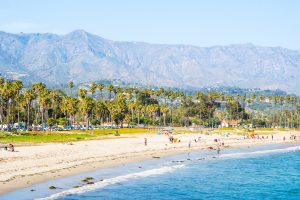 Situated below Leadbetter Hill, this beach is one of Santa Barbara's most popular. This lovely beach is easily accessible from Santa Barbara City College and attracts students looking to socialize, swim, and tan. Leadbetter Beach is also a favorite of kitesurfers and windsurfers. Grills, picnic tables, showers, and restrooms make this beach ideal for celebrations with friends and family.
2. East Beach
Separated from West Beach by Stearn's Wharf, East Beach offers a wide range of recreational activities and is proximal to downtown Santa Barbara. Amenities include a playground, rollerblading trails, food vendors, picnic facilities, showers, and more. East Beach even hosts various volleyball tournaments throughout the year. Its calm waters make it a favorite location for swimming and sunbathing as well.
3. Arroyo Burro Beach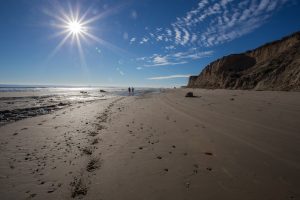 Even if you've been to Santa Barbara, you've probably never heard of this beach. That's because it's referred to as "Hendry's" by Santa Barbara locals. Arroyo Burro Beach is usually filled with scampering dogs as it is a dog-friendly beach in Santa Barbara. There's even a coin-operated pet wash! A picnic area, restrooms, and a great seafood restaurant are all available onsite.
Local Tip: Parking at Arroyo can be difficult on weekends. Be sure to get there early or visit during the week to beat the crowds.
4. Shoreline Park
Shoreline Park is a long, narrow strip of land that faces the Pacific Ocean. It's one of the area's most popular parks and includes a playground, picnic area, Japanese garden, and a whale-watching telescope. Gray Whales may be observed here during their migration months, along with a variety of marine mammals like dolphins and seals.
5. Butterfly Beach
Butterfly Beach is located in Montecito, CA, and is just a short drive south of Santa Barbara. Whether you want to soak up rays, take a dip in the ocean, participate in thrilling water sports, or explore the area, this beach has something for everyone. You can take an electric bike tour or trolley tour take in the views, or try your hand at kayaking or paddleboarding. Plus, Butterfly Beach's unique east-west orientation makes for some genuinely spectacular sunrises and sunsets, and you can even see views of the Channel Islands to the west.
Stay Near the Coast at the Cheshire Cat Inn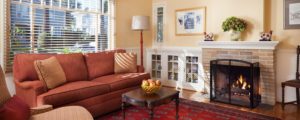 After you visit the best beaches in Santa Barbara, come home to our charming bed and breakfast, the Cheshire Cat Inn. You can reserve a guest room or suite in the Main House, Eberle House, or Coach House, or choose from one of our spacious cottages. All of our accommodations are comfortable and luxurious.
Experience relaxation and bliss in our Prestbury Cottage. Inspired by our owner's favorite Cheshire village, this cottage features hardwood floors, a living room with a cozy fireplace, a flat-screen TV, and a fully equipped kitchen with a dining nook. You'll fall in love with the Prestbury Cottage's private deck showcasing gorgeous views of the city.Check our availability today and book your stay. We look forward to having you!
Our Blog