Your Guide to the Best Places to Enjoy Live Music in Santa Barbara
When you're visiting Santa Barbara, there are a plethora of fun-filled activities to choose from. If you're someone that appreciates an excellent local music scene, then you'll love it here. Throughout the area, there's an array of venues to check out some outstanding musicians. Here's our list of the best places for live music in Santa Barbara.
As locals to the Santa Barbara area, we have the inside scoop on all of the best places to see live music in Santa Barbara. Check out the list of our three favorite locations!
1. The Red Piano
Only a 7-minute drive from the Cheshire Cat Inn.
At The Red Piano, you'll "come for a drink, and stay for the show." This lively all-request piano bar on State Street is a favorite spot amongst people looking for entertaining and interactive live music. They offer live music every night of the week and feature a revolving schedule of local musicians. They also have a monthly featured artist that they fly in from anywhere in the U.S. When you visit the Red Piano in Santa Barbara, you're in for a treat!
2. Santa Barbara Bowl
Only a seven minute drive from the Cheshire Cat Inn.

The Santa Barbara Bowl has been hosting famous musicians and music lovers in Santa Barbara for nearly a century. Each year, the Santa Barbara Bowl hosts around 30 musical acts that span many genres and nationalities. No matter what your taste is, you can guarantee there will be a show that you'll love! Past performers have included Jimmy Buffet, Bob Dylan, Lionel Richie, Blink 183, and Snoop Dog. Before you vacation to Santa Barbara, be sure to check the Santa Barbara Bowl's Event Calendar to see if your favorite artist will be visiting!
3. Soho Restaurant and Music Club
Only a 2-minute drive from the Cheshire Cat Inn.

This lively establishment is the perfect spot to listen to live music, sip on a delicious beverage, and eat some Californian fare. Some of their delicious menu items include fresh seafood and gourmet pizza. The Soho Restaurant and Music Club takes pride in featuring all organic food from local farmers, ranchers, and fishermen. Aside from featuring amazing musicians, they also host fun-filled events, such as Salsa nights and Jazz Jams on Monday nights.
Stay in the Heart of Santa Barbara at the Cheshire Cat Inn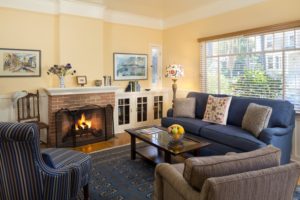 Four blocks away from the heart of downtown Santa Barbara nightlife and the best live music in Santa Barbara, you'll find the Cheshire Cat Inn. Our Southern California bed and breakfast offers travelers from all over the world an opportunity to enjoy beautifully appointed accommodations and furnishings.
The Cheshire Cat Inn is happy to provide our guests with the opportunity to stay in a private cottage. Our Woodford Cottage is beautifully appointed with hardwood floors, a spacious living room with a fireplace and flatscreen TV, and a fully-equipped kitchen and dining nook. When you stay in our cottages, you'll enjoy complimentary breakfast and afternoon with and hors d'oeuvres. Are you ready to start planning your Santa Barbara adventure? Check our availability today!
Our Blog