The Santa Barbara International Film Festival: Everything You Need to Know
If you have never been to the Santa Barbara International Film Festival, you are missing out on the experience of a lifetime! Held each February, it has become one of the most renowned film festivals in the country. The event brings together filmmakers, directors, celebrities, and the public to celebrate a shared appreciation for the art of film. Enjoy a cinematic experience like no other, and see it for yourself!
About the Santa Barbara International Film Festival
The Santa Barbara International Film Festival has been a California tradition for over 35 years. The festival spans over eleven days and attracts more than 90,000 attendees and features over 200 film screenings. There will be exclusive world premieres of live-action shorts, animation shorts, full-length films, and more. The festival takes place throughout many sites in Santa Barbara, including State Street, Arlington Theatre, Lobero Theatre, and the recently renovated Riviera Theatre.
Here at the Santa Barbara International Film Festival, also known as SBIFF, you'll find the very best of independent, U.S., and international cinema. A significant highlight of the Festival is the celebrity tributes, where the top in the field get recognized for their film achievements. Recipients have included Brad Pitt, Johnny Depp, Jennifer Lawrence, Oprah Winfrey, James Franco, and Emma Stone among, others.
Exciting Events at the Festival
Each year, the festivities kick off with the Opening Night Film and Gala. At the Opening Night Gala, guests over 21 can enjoy food, drinks, dancing, and live entertainment in downtown Santa Barbara. This fun-filled evening is open to the public, and tickets are available before the event.
There are a plethora of free things to do in Santa Barbara to keep you entertained, and SBIFF is no different. You can watch daily films for free. Plus, there are also free educational seminars, student competitions, and more. Admission is always on a first-come, first-serve basis, so we recommend getting there early! Here are examples of some of the free events you can attend:
AppleBox Family Films
Free Screenings
Filmmaker Seminars
And More!
Amazing Awards at the Festival
This star-studded festival is bursting with incredible talent. Throughout SBIFF, there's an array of notable awards presented. Some of the incredible awards include:
Kirk Douglas Award for Excellence in Film


Since 2006, the annual Kirk Douglas Award for Excellence in Film has been awarded to a lifelong contributor to cinema through their work in front of the camera, behind, or both.
Past award winners include Martin Scorsese, Robert De Niro, Quentin Tarantino, and John Travolta.

Maltin Modern Master Award


The Modern Master Award is the highest honor presented by SBIFF. It honors an individual who has enriched our culture through accomplishments in the motion picture industry.
Past award winners include Denzel Washington, Christopher Plummer, James Cameron, and George Clooney.

American Riviera Award


Santa Barbara has long been described as the American Riviera. SBIFF proudly places this trademarked name on their ward for outstanding achievement in American film.
Past award winners include Viggo Mortensen, Jeff Bridges, Robert Redford, and Rachel McAdams.
Save Money When You Attend the Festival
The Cheshire Cat Inn has been a proud Hospitality Partner of SBIFF since it began. We are pleased to offer special rates for those who are planning to attend the festival. With our Santa Barbara International Film Festival Package, you'll receive discounted rates on our guest rooms and cottages, as well as a 4 Film Mini-Pak for each night you stay!
Come Home to Our Santa Barbara Bed and Breakfast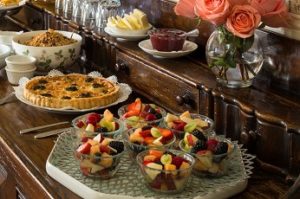 When searching for accommodations near the Santa Barbara International Film Festival, no place compares to Cheshire Cat Inn. Our bed and breakfast is a short walk from the theatres and main area attractions. Our comfortable rooms, suites, and cottages offer the very best amenities to ensure that your stay outstanding. Many feature original fireplaces and balconies with incredible views of the Santa Ynez Mountains.
During your stay, you can expect to start each morning with a delicious complimentary breakfast. After an exciting day at the film festival, come back and join us for a complimentary wine tasting hour and hors-d'oeuvres. Check our availability and make your reservations today. We can't wait to welcome you!
Our Blog