How to Be a Hero and Attend the Santa Barbara Earth Day Festival
Do you want to be an environmental hero? Then head to the American Rivera and attend the Santa Barbara Earth Day Festival! This legendary Earth Day celebration occurs annually with the efforts of the Community Environmental Council (CEC). As the longest-running public Earth Day celebration in the United States, this festival is a can't-miss event!
When you visit Santa Barbara, you'll want to know what the area's best restaurants, outdoor activities, and attractions are. You can find all of this information in our free Vacation Guide!
What is Earth Day?
Earth Day is an annual event celebrated around the world on April 22 to demonstrate support for environmental protection. It originated in 1970 and today is celebrated worldwide in almost 200 countries.
Celebrate Earth Day at the Santa Barbara Earth Day Festival
The Santa Barbara Earth Day Festival takes pride in providing the opportunity for people to get educated, get inspired, and take action when it comes to the environment. Each year, this 2-day event takes place in Alameda Park in Santa Barbara, CA, during mid-April. Guests have a blast exploring over 200 eco-conscious exhibitors and vendors, and one of the most exciting parts of this event is that it's free to attend!
There's so much to see and do at the Santa Barbara Earth Day Festival! Take a look at the exciting attractions below!
Friday Evening in the Park
Kick off the festival with an excellent concert in the park. Don't forget to bring your blankets, chairs, and most impressive dance moves!
Green Car Show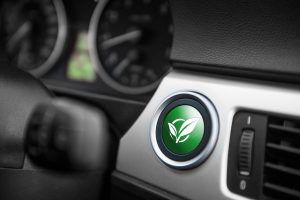 The Earth Day Festival's Green Car Show is the most extensive collection of eco-friendly vehicles on the central west coast. At the show, you can test-drive the industry's leading plug-in electric, hybrid electric, and fuel cell vehicles.
Homegrown Roots
This zone of the festival features local farmers, food and beverage artisans, and other organizations that are dedicated to providing sustainable food systems throughout California, such as the Beekeepers Guild of Santa Barbara.
Public Square
The Public Square Zone provides attendees with the opportunity to connect with public officials. You can speak one on one with them and learn about their goals and values concerning environmental protection.
Great Outdoors'
Get moving at the Great Outdoors Zone and participate in fun-filled fitness activities. These activities are provided by businesses that advocate for healthy and environmentally-friendly lifestyles, like the Gaviota Coast Conservancy, for example.
Beer and Wine Garden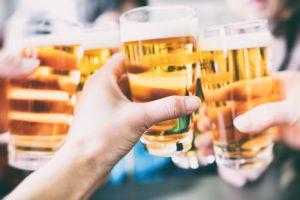 Pay a visit to the Beer and Wine Garden and quench your thirst with local wine and craft beer. One of the crowd favorite breweries is Firestone Walker Brewing Company.
Eco Marketplace
Peruse the Eco Marketplace and gaze at all of the environmentally-friendly vendors at the Earth Day Festival. From wandmakers to clothing brands to handcrafted jewelry, you're sure to find a one of a kind souvenir at the Marketplace.
Food Court
Satisfy your cravings and visit the Food Court to enjoy a delicious assortment of local, sustainable, and organic menu items.
Celebrity Appearances
If you're lucky, you might catch a glimpse of a celebrity during your time at the festival. In the past, celebrity sightings have included Bill Nye, James Cameron, Daryl Hannah, and Elon Musk.
Stay at the Gorgeous Cheshire Cat Inn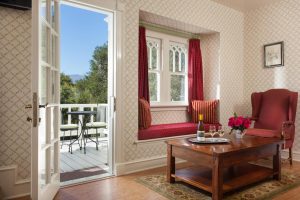 Stay close to downtown and the Santa Barbara Earth Day Festival at the Cheshire Cat Inn. Our elegant bed and breakfast pristine guest rooms, private cottages, and an abundance of amenities. To support more eco-friendly options and preserve our beautiful town, we are proud to provide an electric vehicle charging station on-site at our inn. This is important to us, and we're excited to do our part! Plus, Cheshire Cat is only a 10-minute walk to Alameda Park, so it's easy to walk and be environmentally conscious as you plan your trip to the festival.
This outstanding event will be here before you know it! Check our availability and start planning your visit today.
Our Blog