Why You Need to See a Performance at the Lobero Theatre
No visit to Santa Barbara, California is complete without a trip to the Lobero Theatre. The Lobero is California's oldest, continuously operating theater.
Originally founded in 1873 and rebuilt in 1924, it's an architectural jewel and a registered California Historical Landmark. The theater hosts over 250& performances each year ranging from dance, jazz, and ballet to classical and contemporary music. The next time you stay at the Cheshire Cat Inn, take a quick one-mile trip to the theater for a show! Here are some of the things you'll see there.
Everything You Need to Know About the Lobero Theatre
History & Architecture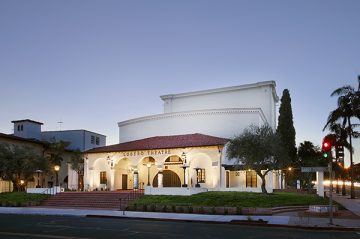 At the time of its founding, the Lobero Theatre was the only opera house south of San Francisco. It was the cultural heart of Santa Barbara and sat on the corner of Anacapa and Canon Perdido streets. When the building began to deteriorate in the 1920s, architects George Washington Smith and Lutah Maria Riggs rebuilt it as a theater. They designed the new building in the Spanish Colonial Revival Style, which helped unify the town's unique architectural look.
The Theatre's Golden Era
The newly-built Lobero quickly became an epicenter for many genres of music. The Roaring Twenties brought in "preview performances" from Hollywood, and audiences were able to enjoy the works of stars like Clark Gable and Ingrid Bergman. In the fifties, "Cool Jazz" – the West Coast sub-genre of jazz – flourished. The first jazz performance was held on the Lobero stage, and the theatre became Santa Barbara's premier destination for live jazz.
Current Shows & Events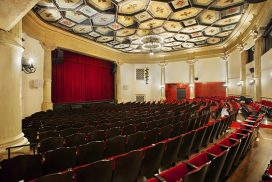 Today, the Lobero Theatre hosts a variety of performances throughout the year. It's a home stage for many performing arts groups in the area, including State Street Ballet and the Santa Barbara Chamber Orchestra. One of the most popular series at the theater is Jazz at the Lobero when renowned jazz musicians come from all over the country to play. The theatre even hosts events like the Santa Barbara International Film Festival. Visit their events page for details and to purchase your tickets.
Come Home to the Cheshire Cat Inn
With a rich history and plenty of performances to chose from, the Lobero Theatre is a must-see during your stay at the Cheshire Cat Inn. Our bed and breakfast is just a five-minute drive from the theater and has everything you need to unwind! Choose from our selection of cozy rooms, suites, and cottages to create your perfect California getaway. Many accommodations feature original fireplaces, sitting areas, and balconies with beautiful views. We even offer a complimentary wine tasting hour each evening and a delicious homemade breakfast in the morning! So what are you waiting for? Check our availability and make your reservations today. We look forward to having you!
Our Blog