Here Are the Best Bike Rides in Santa Barbara
With soaring mountains and scenic valleys, Santa Barbara is one of the best cycling destinations in the U.S. You'll find mountain passes, winding woodland trails, and flat bike paths throughout the area. Whether you are looking to challenge yourself with a steep climb or take a leisurely cruise around town, there is something for everyone! Here are some of the best bike rides in Santa Barbara.
Goleta Bike Path
Also called the Obern Trail bike path, Goleta Bike Path is one of the most scenic bike rides in Santa Barbara. This 21-mile loop will take you past the University of California Santa Barbara campus, lemon groves, beaches, quiet residential areas, and Chumash villages. One of our favorite things about this flat, paved path is that it is great for all levels of fitness. And, you'll find incredible views around every turn. There is parking at Goleta Beach and multiple access points throughout the loop. If you would like to grab a bite to eat after your ride, you can also stop by one of the restaurants on Goleta Beach.
Mountain Drive Bike Ride
If you want to put the pedal to the medal, this is the ride for you! With steep inclines and curves, this 16-mile route will take you 800 ft. above the city. The views from the top of Mountain Drive are worth the climb, though. You'll see the most beautiful sweeping mountain vistas. On clear days, you can even see the Channel Islands 25 miles offshore. Make sure to keep an eye out for hang gliders flying overhead! On the way back down you will pass the Bird Refuge, shopping areas, and East Beach.
Downtown Santa Barbara Bicycle Ride
One of the best ways to see our city is by bike! This Santa Barbara bike ride will take you through the heart of downtown and past many must-see attractions. You'll cruise past the Paseo Nuevo shops, the historic County Courthouse, Santa Barbara Mission, and beautiful parks. It's a great way to see our beautiful Santa Barbara architecture while getting exercise. At the end of the 10.8-mile ride, you can check out all of the great shopping and restaurants at Stearns Wharf.
Hiking Trails in Santa Barbara
If you would like to discover the best-kept-secret in Santa Barbara, pack a picnic and head to Seven Falls Trail. The first part of the trail is a dirt pathway, and then you'll hike along the creek get to the falls. At the end of the trail, you will find cascading waterfalls and deep natural pools. Here you can slide down the mossy waterfalls, swim in the pools, or relax and soak up the sun. It's the perfect way to enjoy a fun day outdoors with your family! The trail is approximately 3.1 miles round-trip.
Stay at Cheshire Cat Inn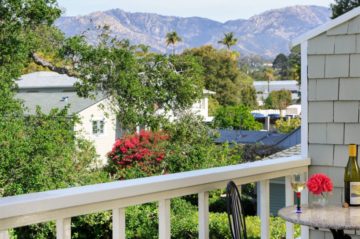 Once you have biked to your heart's content, come relax at our downtown Santa Barbara bed and breakfast. Cheshire Cat Inn is nearby all of the main area attractions and offers the perfect accommodations for your stay. Each of our rooms and cottages features a unique name, many inspired by Alice in Wonderland. When you stay in our White Rabbit Balcony Room, you can enjoy top-notch amenities, a comfortable King Bed, and stunning views of the gardens and Santa Ynez Mountains.
At Cheshire Cat Inn, you can expect to start off each morning with a delicious breakfast buffet. After an exciting day biking through Santa Barbara, come join us for wine and hors-d'oeuvres at social hour. So what are you waiting for? Check our availability and book your stay today! We look forward to seeing you soon!
Our Blog