Why I Madonnari Is One Art Festival You Don't Want to Miss
Santa Barbara boasts of its artistic flair any time of year, but especially in May at I Madonnari. Not your average art festival, this chalk art fair features several local artists' work, great food, live music, dancing, and so much more. If you have an appreciation for fine art or culture, then this is one event that you can't miss. Mark your calendar for May 25th – 27th and start making your plans to attend now!
Join the 32nd Anniversary and Make I Madonnari History
Coming from the sister festival in Grazie di Curtatone, Italy, I Madonnari (May) celebrates the same way the Italians do: with art and culture. The 2019 festival, which kicks off on May 25th and runs through the 27th, benefits a nonprofit arts education program of the Santa Barbara County Education Office. More than 50,000 children in over 100 schools in Santa Barbara and San Luis Obispo counties will benefit from the proceeds of the I Madonnari Italian Street Art Festival, which contributes to visual and performing arts workshops and performances for students. Come celebrate the arts while helping create the possibility for young artists to achieve their potential!
Locals' Favorite Event in Santa Barbara
The Santa Barbara Chalk Festival 2019 is famous for its bright, vibrant atmosphere and the local involvement. Watch artists transform the Mission plaza using pastels on pavement to create 150 vibrant and colorful, large-scale images. There's a reason 25,000 visitors attend this celebration of color and creativity. You can be a part of it, too!
Engage All of Your Senses at I Madonnari (May)
While art is the main appeal of this event, it wouldn't be a festival without incredible food and live music. A cultural market really sets the style of this festival. Here you can taste authentic Italian cuisine and browse the specialty items for sale. All of your senses will be engaged with the offerings at this Italian street art festival in Santa Barbara. You won't know what to choose from first, but one thing is for sure: you will walk away inspired and satisfied.
Experience I Madonnari to the Fullest At Cheshire Cat Inn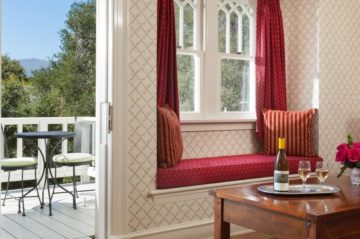 Only four blocks from downtown Santa Barbara, the Cheshire Cat Inn is a perfect place to stay during I Madonnari. Book the Caterpillar Balcony Room on the second floor of the Main House and enjoy incredible views of the English gardens and the Santa Ynez mountains.
During your stay, you can enjoy the most luxurious amenities with all the comforts of home. We are happy to offer our guests a complimentary continental breakfast, and an afternoon social hour with local wine and gourmet hors d'oeuvres. Make sure to look for our current specials, and check our room availability to find the perfect accommodations for your stay. We look forward to hosting you at the Cheshire Cat Inn!
Our Blog