Top 3 Reasons to Visit the Santa Barbara Whale Festival
Every year, thousands of gray whales make their incredible 6,000-mile journey between Alaska and Mexico leaving the West Coast the perfect whale watching location. Santa Barbara is a prime location to see migrating whales. Gray whales aren't the only ones who swim through this area though — numerous species of whales and even dolphins pass through the Santa Barbara Channel! With so many beautiful creatures passing through the local waterways, it makes sense that locals celebrate in March with a festival dedicated to these majestic mammals. With so many local events in Santa Barbara to choose from, we've picked out the top 3 reasons you absolutely have to visit the Santa Barbara Whale Festival!
The Santa Barbara Whale Festival is Educational and Entertaining
The Whale Festival is scheduled to coincide with the northern migration of gray whales and acts to promote awareness of not only whales, but of 27 species that travel through the Santa Barbara Channel. Festival attendees can learn about the whales and any issues currently affecting them at whale and marine educational stations. Local and national organizations will be at the stations as well, including Santa Barbara Marine Mammal Center, Channel Islands National Marine Sanctuary, Center for Marine Conservation, Ocean Futures Society, Pacific Cetacean Group, Aquarium of the Pacific and many more!
Featured Vendors and Activities
Locals set up tents and booths with your favorite food and new tasty discoveries. You might find an artisan selling a perfect souvenir to take home from your experience in Santa Barbara or stop to listen to the musicians playing. You also have the opportunity to watch diving demonstrations, or take the kids to the rubber duck race, children's carnival, or arts and crafts show. With everything there is to do, the Santa Barbara Whale Festival will provide fun for everyone.
Whale Watching Tours
This wouldn't be a proper Whale Festival in Santa Barbara without whale watching! Take a tour and have an experienced local point out places to watch for a surfacing whale and use your new knowledge to talk about the species with your friends or family. Ultimately, you'll be gawking at the view of the gorgeous Santa Barbara coast line and experiencing the thrill of seeing a whale passing through the channel.
Make Your Visit Complete When You Stay at Cheshire Cat Inn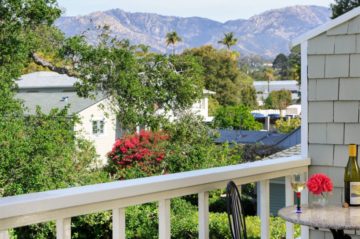 Conveniently located near downtown Santa Barbara, the Cheshire Cat Inn is a perfect place to complete your visit to the Santa Barbara Whale Festival. Book the White Rabbit Room and relax in the sitting area or the secluded deck that overlooks English gardens and the Santa Ynez mountains. This particular room décor feels fresh and inviting with yellow and sapphire blue color schemes.
You can see how all of our rooms are distinguished, but each includes a complimentary continental breakfast, afternoon wine hour with local wine, and gourmet hors d'oeuvres. Check our room availability to see which accommodations will be perfect for your stay when you come to the Santa Barbara Whale Festival.
We look forward to hosting you at the Cheshire Cat Inn!
Our Blog