Here Are 6 of the Best Spas in Santa Barbara, California
When you're on vacation, one of the most important goals is for it is a time of rejuvenation and relaxation. You can achieve this in multiple ways, and one of the best is to visit a spa. You would be hard put to find another location where such attention is paid to delighting all the senses. Of course, you'll want to go to the places that offer quality experiences. Keep reading to discover some of the best spas in Santa Barbara, California.
Cielo Spa
Choose from several soothing experiences at Cielo Spa. Relieve tense muscles through a rejuvenating massage that very well may be the best you've ever had. Choose from a lighter Swedish massage, a more intensive deep-tissue massage, or bring your sweetheart or friend along and get a couples massage. Nourish your skin with a facial, which is sure to be heavenly. Options include a Vitamin C facial, an O2 lift, all-natural, or a facial customized to your skin needs. Cielo Spa is open by appointment only, so be sure to book online or call in advance.
Crimson Day Spa
Regardless of whether you receive a facial or a massage, all products in use at Crimson Day Spa are high-quality, organic, EcoCert and cruelty-free. This boutique day spa offers a variety of luxurious facials, each of which is accompanied by a scalp, neck, shoulder, and foot massage. Crimson also provides full-body massages, complete with organic massage and essential oils.
Float Luxury Spa
You'll feel like you're floating after a trip to Float Luxury Spa. Before you begin your experience, you can sample the lotions that will be used for your massage, and they'll even ask if you like to talk or would prefer to remain silent throughout. Relax in a thick, cozy robe in the clean indoor waiting area before your facial or massage, and by the tranquil reflection pool afterward. Float provides many luxurious services, and you can even reserve the spa for a private party.
Le Reve Organic Spa & Boutique
This is the first and only green certified spa in Santa Barbara. Le Reve's offerings range from therapeutic massages to clarifying facials to indulgent packages that make your experience a mini-retreat. The warm and inviting tones of the decor will cause you to relax from the moment you step inside.
Salt Cave Santa Barbara
Discover the largest pink Himalayan salt caves in North America at Salt Cave Santa Barbara. This spa, located beneath the bustle of State Street, is a bit different from the others on this list because it is more dedicated to holistic healing. As such, among its services are specialized health classes and yoga sessions. Himalayan salt infuses each service, whether it be an ingredient in a facial or part of the surrounding environment. The soft glow of the surroundings here make for an ethereal, calming atmosphere, making for a spa experience that you won't soon forget.
Santa Barbara Spa Del Mar
This luxurious beachfront boutique spa is staffed by a team of professional massage therapists and estheticians who are dedicated to making your spa experience personalized while offering high-quality treatments. Santa Barbara Spa Del Mar uses pure jojoba oil for massages and hand blends body treatments at the time of service, so you can be sure that the products used are of the finest quality. You will be pampered from head to toe when you visit this private and intimate spa.
Return to a Charming Inn
Continue your relaxing experience by staying at the Cheshire Cat Inn. From our elegant rooms to our lovely gardens, our peaceful inn offers a serene retreat in downtown Santa Barbara. Our Victorian Queen Ann houses and Craftsman cottages present the perfect blend of classic charm and modern convenience. As a guest of our inn, you will enjoy a complimentary, Eastern-style gourmet breakfast in the morning and a wine & hors d'oeuvres social hour in the evening.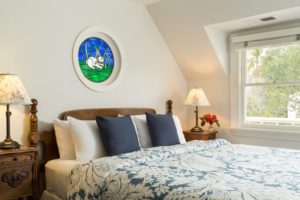 Our beautiful White Rabbit room provides lodgings ideal for a romantic getaway. This split-level room features a spacious king-sized bed and cozy seating areas both inside and on your private balcony. Clean, bright white walls accent splashes of blue and yellow, creating a cheery effect. From your secluded deck, you have great views of our English gardens and the Santa Ynez mountains in the distance.
This is just a glimpse of what it's like to stay in Santa Barbara. Be sure to browse all our accommodations, and reserve a room today!
Our Blog